See on Scoop.it – Edgar Analytics & Complex Systems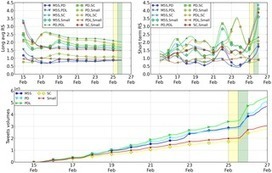 In this paper we present an analysis of the behavior of Italian Twitter users during national political elections. We monitor the volumes of the tweets related to the leaders of the various political parties and we compare them to the elections results. Furthermore, we study the topics that are associated with the co-occurrence of two politicians in the same tweet. We cannot conclude, from a simple statistical analysis of tweet volume and their time evolution, that it is possible to precisely predict the election outcome (or at least not in our case of study that was characterized by a "too-close-to-call" scenario). On the other hand, we found that the volume of tweets and their change in time provide a very good proxy of the final results. We present this analysis both at a national level and at smaller levels, ranging from the regions composing the country to macro-areas (North, Center, South).
http://dx.doi.org/10.1371/journal.pone.0095809
Multi-Level Geographical Study of Italian Political Elections from Twitter Data
Caldarelli G, Chessa A, Pammolli F, Pompa G, Puliga M, et al.
PLoS ONE 9(5): e95809 (2014)
See on www.plosone.org